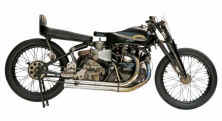 Pictured here is the only supercharged Vincent Black Lightning motorcycle that was produced in Britain to set a new
world record for speed in 1950, but never did accomplished that task. However it will most likely break a world record
for a motorcycle sold at an auction when it goes on the auction block. It is estimate to go for $400,000 to $600,000. This
one of a kind Vincent Black Lightning motorcycle pictured here will be auctioned off at Bonham's' Classic Motorcycle
Mechanics Show sale in Stafford, UK. If it breaks the existing record of $520,000 for a 1915 Cyclone it will become the
world's most high-priced motorcycle. The Vincent Black Lightning motorcycle has hardly ever been ridden, and is in
pristine shape, making it that much more valuable. While $600,000 sounds like a huge sum for a motorcycle, you can
be certain that this motorcycle will only go up in value.