*** A warning to collectors
from the Guino estate and Allen Renoir
Regarding the "Renoir" sculptures at the "Rima Fine Art" gallery in Scottsdale Arizona.
Click to read the document English French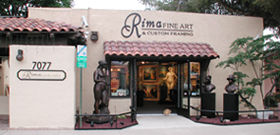 "Rima Fine Art" Gallery, Scottsdale, AZ.
---
To learn more about Richard Guino
---
Jean Emmanuel Renoir?
The man behind the collection at "Rima Fine Art" and "House of Renoir"
"The Court States that Mr. Jean-Emmanuel RENOIR and
Mrs. HERNANDEZ, by promoting forged castings and issuing
certificates of authenticity have also become jointly responsible,"
(Dominique Saint-Schroeder, Premier Judge
Paris District Court, April 8 1998)
Documents
SUPERIOR COURT OF THE STATE OF CALIFORNIA
More to come
---
Dror Darel
The man behind "Rima Fine Art" and "House of Renoir"
Officially he's only the director, Tracy Penwell, his current wife is the "Owner".
| | |
| --- | --- |
| Mr. Dror Darel 2002 | Mrs. Tracy Penwell 2002 |
Mr. Darel had galleries in Edmonton Alberta Canada,
Mall of America Minnesota and New York.
He currently resides in Phoenix AZ .
Mr. Darel has Israeli and Canadian citizenships.
If you have any information regarding this man, please e-mail us.

There are many more articles and documentation to be added and this is being done as quickly as possible.
---
Email us at
If you have been a victim of a fraud
either as an
artist, buyer, or collector
please contact us at
---
Help us stop art fraud.
Spread the word